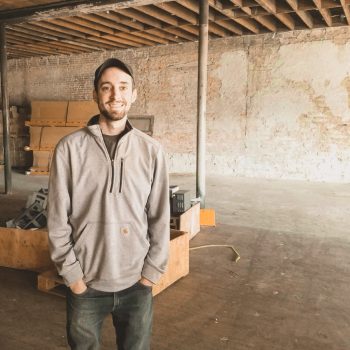 Alex Sheridan was born and raised in Marion, Ohio. He attended Ohio State Marion for his education and, during his college years, started several small businesses related to his passion for music. After school, he spent a year teaching, but as his small business ventures picked up steam, he decided to pursue those businesses full-time. For Alex, successful small business ownership meant many things, but the best part of his path was the flexibility to pursue another great passion of his — restoring old houses and buildings.
Alex's new passion project started with a few houses around town, but his energy and love of architecture and restoration ensured that his next big projects would focus on downtown Marion. Alex acquired several buildings on Main Street in the heart of downtown, and plans to restore the facades, prepare new storefronts, unveil a new event space, and create new loft living space. And, after some time spent doing demo and collaborating with engineers, he is ready to start rolling on the restoration work.
If you get a chance to ask Alex about his Main Street projects, do it. His passion and excitement for a vibrant downtown are apparent the moment he starts talking about the architectural details of these beautiful old buildings, or the community interest that is building around downtown business. Alex is enthusiastic about the movement to restore downtown Marion, and his enthusiasm is bolstered by the excitement he sees around him about his and others' work.
#marionmade #wearerestoringmarion #weareentrepreneurs