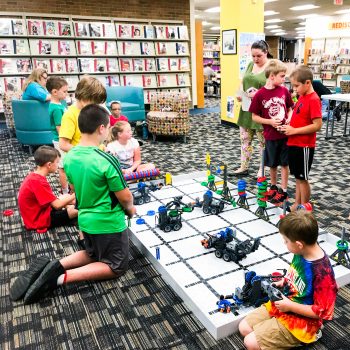 Robotics are Fun for All Ages!
Robotics @ the Library began as a partnership between RAMTEC/Tri-Rivers and the Marion Public Library in 2016 and has grown into one of the library's best attended programs!
Several times a year the library hosts 7- or 8-week sessions of drop-in Robotics @ the Library programming, and over the summer of 2017, organized the first summer camps at the library. The expertise of the students from RAMTEC/Tri-Rivers and the community presence of the library are a perfect mix for this fun and engaging program. Thanks to a generous grant from The Bookmarks of Marion Public Library, this program will soon be expanding with the purchase of new robot kits and some other exciting high tech gadgets! Besides robots, this program introduces people to exciting technologies like Raspberry Pi computers and 3-D printing.
Robotics @ the Library is been great for the community, bringing people together from across the county, and across generations, to work on robots together! Children, parents, and grandparents all attend together and have fun building and experimenting. Robotics @ the Library is also an opportunity for younger children and homeschooled children to discover robotics.
Robotics @ the Library wouldn't exist without the Marion community and people truly devoted to getting robots and other 21st century technology into the hands of people that want to learn. Thanks to RAMTEC/Tri-Rivers, the Marion Public Library, and The Bookmarks, this program has flourished and now has even more room to grow. Robotics @ the Library is truly MarionMade!
#MarionMade #WeAretheMarionPublicLibrary #WeAreRamtec #WeAreTriRivers #WeAreLearning