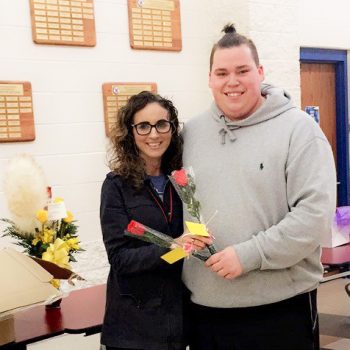 MITCHELL HUTCHMAN: A LOVE FOR COMMUNITY AND BUSINESS AT AN EARLY AGE
When Mitchell Hutchman was just four years old he put together his own Christmas tree with lights and decorations. His parents joke that he had less trouble than they did putting up the tree. At eight years old, he put together a Christmas light display timed to music and started putting up decorations for his extended family and neighbors.
Mitchell was a frequent visitor to the retirement community where his mother worked. At just 14, he decorated the retirement community with 23 Christmas trees all of which had different themes. That is when Ryan Elliott, the original owner of Fuzzy's Flowers, asked Mitchell's mom about him. When the Elliott's decided to retire to the beach life they approached Mitchell about becoming the new owner of Fuzzy's.
So, from October of his senior year Mitchell was taking proposals to banks about purchasing Fuzzy's.
"I have to admit being an 18-year-old trying to finance a business is not an easy task. Being taken seriously was my first hurdle." stated Mitchell. "I was very blessed that a family friend was able to finance me or I am not sure it would have happened."
Mitchell was very involved in the music program at Harding High School. His younger sister is a Harding Senior and he sponsored her jackets and t-shirts. "It was fun seeing how happy and proud it made my sister," added Mitchell. He has since sponsored flowers for Harding Singers, Singsational and Harding Seniors at Showchoir Spectacular, and Grant Middle School's production of "Beauty of the Beast". He wants to become more involved in sponsoring music programs county wide over the next year.
As a small business owner many people come in raising funds for local residents who are in need of assistance. He is pleased to say he has not turned any one down yet. It is so important that everyone pitches in to help.
He is excited to be teaching a course in April for the OSUM LEI adult education program. "I was surprised to learn that my class is full with a waiting list!" added Mitchell.
He is already a member of the Chamber of Commerce. "They have been a huge help to me. Not only have they helped me with my marketing efforts. So many members have come in to the store and supported my business.," said Hutchman. He is a new sponsor of Downtown Marion. He strongly supports the MarionMade program.
Mitchell can't get over how many community leaders have come in and invited him to participate in their programs. "Now that I have been open almost a year I hope to become more involved." said Mitchell.
#MarionMade #WeAreCommunity #WeAreFuzzys