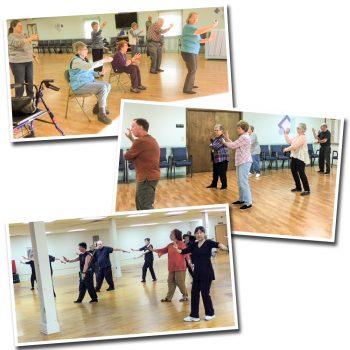 Staying Healthy in Marion with Tai Chi
The Yang-style form of Tai Chi is a part of the martial arts. It is the most popular and widely practiced form of Tai Chi in the world. As an exercise, it comprises gentle physical exercise and stretching with mindfulness. It has been shown to improve balance control, fitness, and flexibility, and to reduce the risk of falls in older people as well as it tests memory skills.
In 2006 Carol Nelson started teaching Tai Chi in Marion. Steve and Marlene Rennick were in the first group of students and today assist in teaching classes downtown in the RHAM Building's third floor and at the Marion Senior Center. Steve and Marlene also teach an 18-Step QiGong program at the Center.
The Water Song Tai Chi group that meets at the RHAM building holds classes on Tuesday and Thursday evenings, as well as Saturday mornings. They work on various forms of Tai Chi, including the long form, the short (24 step) form and those using staffs, swords and fans. The classes are open to all ages. They host the local area World Tai Chi Day, gathering once a year on the last Saturday morning of the April. On that day, individuals from Marion and surrounding counties, come together to be part of the Tai chi celebration.
At the Marion Senior Center the classes are held on Wednesday and Friday afternoons. People are in two groups, those beginning and those more experienced. Here you will find people who are walkers, or need to sit or those who are much more mobile doing the form, side-by-side. Often called"meditation in motion," but it could be called "medication in motion." No matter what it is called, it is keeping many more people in Marion active and healthy, no matter what their age.
#WeAreMarionMade #WeAreHealthy #WeAreTaiChi