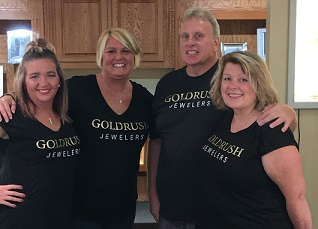 RANDY & SHELLEY RUSH.
Lifelong residents of Marion County, Randy Rush is a graduate of Marion Harding, along with his wife, Shelley, who also earned a bachelor's degree in business from The Ohio State University. She also completed her gemologist degree, which prepared her for their journey ahead. It was Randy's time at Lords Jewelers though, that inspired him to open his own jewelry store. In 1990, he attended and completed his goldsmith training and, the following year, he and Shelley opened Goldrush Jewelers in Marion.
Their first location was a modest 750-square-feet, located in the Marion Plaza. In the beginning, they relied solely on Randy's expertise in repairs, carrying only a few lines of jewelry. Over the next several years, they added many new lines of jewelry—and thousands of satisfied customers. In 1997, the business' growth helped them to build their own 1,500-square-foot store on Kensington Avenue.
"First and foremost, we are proud to be in Marion because this town has made it possible for us to be in business the past 26 years," said Shelley. "The Marion residents are very loyal and 80 percent of our business is from repeat customers."
This business success has enabled the Rush's to support their community in many ways.
"We are partnered with the American Red Cross and host numerous blood drives," Shelley said. She also volunteers her time with the Marion Altrusa club and their biggest fundraiser, Rx Marion, providing our local Marion residents with free or reduced price prescriptions.  This year, Shelley was appointed as Kernel seating chair for the Marion Popcorn Festival and each of her employees volunteered their time as well.
Every year, Goldrush donates to hundreds of local charities including the Chamber auction, Red Cross Radiothon, Marion Popcorn Festival, numerous Poker Runs, Toys for Tots, and Shop with a Cop.
"We also work with other Marion-owned businesses to help support each other," said Shelley.
Now celebrating 30 years of marriage–and 26 years in business—the Rush's have made Goldrush a true hometown jeweler. Randy and Shelley still work in the store, along with their trusted floor manager Tiffany Harbolt, and newest staff member, Sarah Powell.
#marionmade #wearejewelers