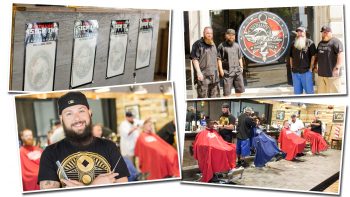 NATHAN'S BARBER SHOP.
.
Owner and barber Nathan Riddle has built a team of barbers around him to create an atmosphere that customers have come to expect and enjoy. In addition to Nathan, the 4-chair shop houses the talents of Ian Cooper, Ben Meade, and Shane Holcomb. One cannot walk into the shop without experiencing a sense of welcome, good conversation, fun banter between the barbers, and a genuine sense of pride for the community.
.
Nathan began his barbering career as a one-chair shop on Greenwood Street in 2011 with a desire to restore the art of community through barbering. Within a matter of six months, Nathan invited Mr. Cooper on board to meet the demands of the shop's growing customer base. Growth was evident and expansion was necessary in order to keep up with the demand and, in 2013, Nathan's Barber Shop moved to Main Street to accommodate the growing customer population. Growth continued and barber Ben Meade was welcomed to the team in 2015. .
In 2016, Nathan determined that an even greater space was necessary to keep up with business growth and the shop relocated to its current location in the historic Huber Building, located at 162 West Center Street in downtown Marion. In addition to expansion of space and growth in clientele, this move gave welcome to the team's most recent barber, Shane Holcomb.  Nathan's Barber Shop has quickly become a staple in our downtown area for their quality work, sense of community, and genuine pride for the city of Marion.
.
Speaking of community, not only is his shop situated in downtown Marion, but Nathan Riddle also sits on the Board of Downtown Marion, Inc. In addition, he collaborated with Spencer Phelps from WDIF to host multiple Blues concerts inside of his shop to bring more events and musical acts to Marion.
.
#MarionMade #WeAreNathansBarberShop #Entrepreneur #BarberShop