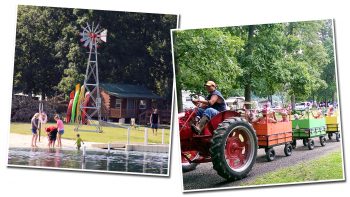 THE MIDDLE OF NOWHERE, THE CENTER OF EVERYTHING.
The Rennicks' have always been a big camping family. With having five kids, this gave the family something new to do multiple times throughout the year. One summer evening, while sitting around the campfire with their family and friends, one friend jokingly asked Brad and Sunshine why they haven't just bought their own campground yet. The thought was planted and never left the Rennick's minds…shortly thereafter they purchased Hickory Grove Lake Campgrounds.
From renovating the restrooms and facilities to brand new docks and white sand at the beach, Sunshine and Brad have been diligently making improvements to the campgrounds since they've taken ownership two years ago. Of the 185 accommodating sites, more than half are occupied with seasonal campers. And, weekend availabilities are becoming sparser jumping from 1-2 visitors each weekend in 2016 to over 15 visitors each weekend in 2017!
Originally from Richland County, the Rennick family has been welcomed with open arms to the campgrounds.  "It felt like we instantly acquired a whole new family when we bought the campgrounds," says Sunshine.  As they continue to settle in and build a foundation, Sunshine intends to become more involved with the Marion community.
Notably, Hickory Grove has been a popular stop for traveling baseball and softball families during tournaments in and around the Marion area. Cozy up to the campfire or indulge in the plethora of activities for the entire family. Every weekend boasts new activities, including four main summer weekend events for all ages-especially kids.
An opportunity to enjoy a nice quiet place to spend your time is hard to pass up. Whether you want to rough it in one of their primitive tent sites or have all the comforts of one of their cabins that overlook the lake, Hickory Grove Lake Campgrounds is a fun, wholesome retreat that's close to home and won't break the bank.
#MarionMade #WeAreHickoryGrove