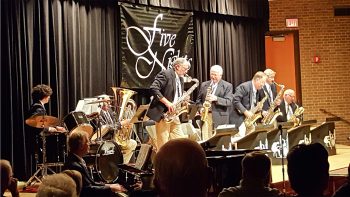 FIVE NIGHTS HOSTS 22nd YEAR OF CULTURE ON CAMPUS
Barefoot musicians, the daughter of a television icon, and a sultry singer are a sampling of what happens five evenings each academic year as The Ohio State University Marion (OSUM) sets aside the books, tests, and lectures to bring top-notch artists to its campus. Known quite simply as Five Nights on Campus, the series brings in regional and national performers to entertain students, staff, and the community.
According to Emily Creasap of OSUM, Five Nights was developed to provide a series of diverse cultural experiences to the campus and to engage the off-campus community. While the audience primary skews 50+, students and younger Marionites take in the Thursday performances in Morrill Hall Auditorium.
The talented and eclectic lineup is the work of Gary Iams, Development Officer at OSUM, who relies on the Ohio Arts Presenters Network, Arts Midwest, and recommendations from season ticket holders to fill out the season lineup. Iams stays in contact with other cultural organizations in Marion as they work to provide the community with a diversity of offerings that complement the region's performance schedules.
Those offerings often stray from the traditional, such as last fall's performance by the Barefoot Movement, an anything but traditional Bluegrass trio that performs sans shoes.  Or this spring's appearance by Karen Knotts, daughter of actor Don Knotts, as she shares her touching father/daughter story about growing up in a celebrity diva world with the love of Mayberry.
You will want to stick around after the show for one of the favorite parts of Five Nights on Campus, when the performer(s) step out of character for a casual conversation and to answer questions.
All performances begin at 7:30 p.m. in Morrill Hall Auditorium. Doors open at 7 p.m. All tickets are general seating. Free refreshments are provided by the Marion OSU Alumni Club. You can find out about upcoming performances at www.go.osu.edu/fivenights.
#WeAreOSUM