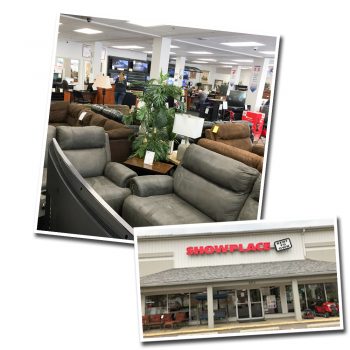 SHOWPLACE.
Gary and Mary Ann Ferriman started selling TV sets from the front porch of their Marion home in January 1981 under the name TV Outlet while working full time jobs. They moved the business into its first commercial location on Mound Street in 1982. A suggestion was made in 1983 to rent those TVs for $10/week, and their rent-to-own careers were born!
The business grew rapidly and, in 1986, moved to its current Bellefontaine Avenue location. TV Outlet grew to three locations by 1989, adding stores in Kenton and Edison (since moved to Mt. Gilead). TV Outlet was renamed Showplace in the early 1990's–the new company name coming from an employee-wide contest.
Showplace continued to expand, reaching a peak of 25 locations, downsizing to improve quality over time, operating anywhere from 13-15 stores since. The newest location is in Tiffin, with another store slated to open in September in Upper Sandusky.
Showplace's mission is to be a special place to shop, a special place to work, and to be the best rent-to-own store in town. This focus on employees, customers, and culture, is combined with a strong financial commitment to a number of local charities–including United Way, Goodwill, YMCA, Safety City, Boys and Girls Club, Kidney Dialysis and Cystic Fibrosis.
#MarionMade #WeAreShowplace