MAKING MEMORIES ONE CAMPFIRE AT A TIME.
Nestled along the Olentangy River is where you'll find your next hidden resort. Listen to the water trickling down the river or children laughing in the distance, as you watch the sunset by your campfire. Just minutes away from the hustle and bustle of Marion's city, the Riverbend Family Campgrounds offers a camping trip not soon to be forgotten.
Sherry Bouyack and her husband, Fred, are mid-way through their fourth summer as active owners of the Riverbend Family Campgrounds. Their silent partner, the campground's former bookkeeper, learned the aging owners were ready to sell in 2013, so he purchased Riverbend and asked his friends Fred and Sherry to become business partners.
"I originally wasn't much of a camper myself until recently," Sherry admits. "It grows on you."
Being recently new business owners in the Marion area, the Bouyacks are most appreciative of everything the Marion County Health Department has done for them. "They're always willing to help, make suggestions, and are always top-notch to work with," commends Sherry.
To pay kindness forward, Riverbend Family Campgrounds and D&K Entertainment recently hosted their second annual car show with all proceeds benefiting the Vietnam Veterans of America, Marion County Chapter 1117. Riverbend has also invited Life Community Church back this summer for Sunday morning services, as well as another full day of vacation bible school fun at the campgrounds in August.
Being just steps away from relaxation and minutes away from town make it the best of both worlds. And, with all new electric and meters installed last winter, campers can easily relax in their air conditioned campers. Out of the 240 campsites Riverbend can accommodate, 210 sites are owned by seasonal campers. With nearly every activity imagined, it's no wonder why these campers choose to stay all summer. From fishing and paddle boating around the lake to disc golf and hayrides to bingo and live bands and more, there are always fond memories to be made at Riverbend Family Campgrounds.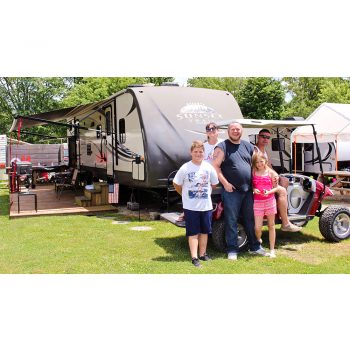 #MarionMade #WeAreRiverbendFamilyCampgrounds