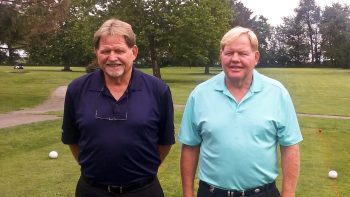 GREEN ACRES GOLF COURSE.
Twin brothers John and Steve Grimes' love for the game of golf began at the tender age of eight when they became caddies at Bucyrus Country Club for 50 cents an hour in 1956. Although their golf careers went separate ways as young adults, it seemed fated they would end up as they began.
.
John went the route of PGA Pro, starting the program in 1975–which ultimately led to his return to the Bucyrus course as head pro in 1980. Steve, after an enlistment in the Marines, returned to Valleyview Golf Course in Galion, a place both had worked after Bucyrus. Both built their reputations and skills at courses in the area until 1994, when Steve called John with a question, "Want to buy a golf course?"
.
John says he did not hesitate and only asked, "Where?" Green Acres on Gooding Road was the course up for sale. The agreement was made and the two brothers began an ownership that is now in its 23rd year.
.
Steve remembers that, as a golf course supervisor in his earlier years, he would go out on the course early to hit balls, ever watchful since he wasn't supposed to. After taking over Green Acres, the first time he did the same, he began to look around when he suddenly realized, "Hey, I am the boss, so I can hit golf balls anytime!"
.
John echoes that sentiment and says one of the rewarding things about owning a golf course is that you get to work, play, and teach golf all in one place. And, teaching golf is a big part of Green Acres. The brothers are committed to teaching the game to area youth and conduct junior golf programs every summer. They can boast that 2003 British Open Champion Ben Curtis of Ostrander participated in their junior golf program.
.
John says that Green Acres is popular with many golfers because it plays quickly as an executive course and is a good value; but, he and Steve work to make it one of the friendliest golf courses in the area.
.
So, after 23 years as owners and a lifetime of golf together, do the brothers tire of the long days at the course? "No," said John. "We still love coming in every day, it's who we are."
.
#MarionMade #WeAreGreenAcres #WeAreGolf