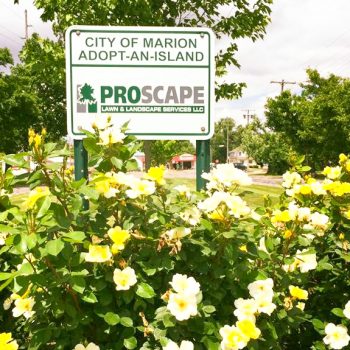 MAKING MARION BEAUTIFUL.
.
Marion may not seem like a location for island hopping, but beautiful islands exist here nonetheless.  We're talking about the numerous traffic islands located throughout Marion Township and the City of Marion that have been "adopted" and maintained by ProScape Lawn & Landscape Services — which taxpayers were previously having to pay to maintain. "We not only beautified the islands with vibrant new trees, shrubs and flowers, but we also maintain the lawn and landscape beds throughout the year at no charge," said ProScape owner Luke Henry.
.
According to Luke, "We take our talents and blessing into account and ask ourselves,  'how can we help?'" ProScape regularly initiates service activities for various local organizations and charities which represent their commitment to and investment in Marion. "These are ways we demonstrate and enhance our professionalism, display our belief in the proper stewardship of the financial resources our community entrusts to us and, most of all, allow us to express gratitude to the community that has made us successful," said Luke.
.
ProScape donates services for select, local non-profits. Since 2011, they have donated lawn, landscape and snow maintenance services for the Central Ohio Chapter of the American Red Cross, and starting in 2013, they did the same for Turning Point. "We are proud to partner with these great organizations and are happy to help them continue their good work in our community," said Luke.
ProScape has its own scholarship program and annually awards $500 to a graduating high school senior who plans on entering one of the many fields of study that our industry encompasses at the postsecondary level. This scholarship is designed to recognize future leaders in the lawncare industry and to home grow these leaders from within our communities.
.
ProScape provides select support — as much as they are able based upon their annual budget — to a number of local organizations, including Habitat for Humanity, Make-A-Wish foundation, Marion Palace Theatre, Mt. Gilead and Ridgedale Lion's Clubchapters, Marion Rotary Foundation, Hospice of Morrow County, Junior Service Guild, Marion YMCA, and Relay for Life, along with many schools, 5Ks, golf outings, and sports teams.
.
#WeAreMarionMade #WeAreProScape