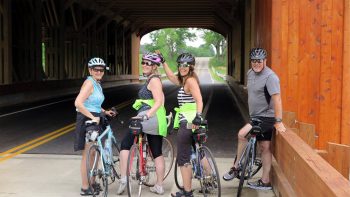 H.O.T. TAMALE BIKE TOUR HEART OF OHIO TAILWINDS BIKE CLUB.
 .
You don't have to be a cyclist to ride a bike–just ask the 300+ participants of the H.O.T. Tamale
bike tour each year. Riding a bike is not just about the exercise or the distance traveled, it's about setting a steady pace to enjoy the warmer weather and really finding your sense of place.
 .
One day in 1983, a group of men from the Heart of Ohio Tailwinds bike club agreed that Marion had prime attributes, such as location and elevation, for the opportunity to share their love of biking within their hometown. The H.O.T. Tamale Bike Tour was formed!
 .
In the beginning years, bikers had the option to ride 32-, 64-, and even a 100-mile route coursed throughout Marion County. Now, 34 years later, bicycling has become more diverse, especially as a family activity. The bike tour now has 8-, 16-, 32-, and 64-mile options. This year riders on the 32- and 64-mile routes will visit the Kingsmill Covered Bridge, while the 64 mile cyclists will also experience the Marion Tallgrass Trail. Meander along quiet country roads and through charming small towns such as Pleasant and Green Camp where you'll find rest stations with homemade cookies–a H.O.T. Tamale tradition.
 .
The Heart of Ohio Tailwinds Bike Club is one of the biggest supporters of the Marion Tallgrass Trail. Not only do all the sponsorships for the H.O.T. Tamale Bike Tour go directly to the Marion County Park District's Prairie Parks Foundation, $1 will be donated to the Marion Tallgrass Trail for every cyclist partaking in this year's bike tour.
 .
Over the years, some have made the H.O.T. Tamale bike tour a casual family tradition, while others jump at the chance to train for the Great Ohio Bicycle Adventure (GOBA) that takes place a couple weeks later.
.
#MarionMade #WeAreActive #WeAreCyclists