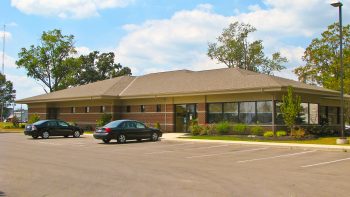 BALDAUF CONSTRUCTION.
.
For more than 125 years, Baldauf Construction Company has been providing construction services in Marion and surrounding communities. Founded in 1882 as J.B. & Sons Construction by John Baldauf, the company got its start building for the farming community–primarily barns and other farm structures. In the 1930's John's sons, Fred and Owen, took over the business. They changed the company name to Baldauf Construction Company and expanded their operation to include commercial and industrial projects. In the mid-1960's, Fred's son, John, became president.
.
In 1972, Baldauf become an authorized Butler Building Dealer and expanded its capabilities to include the construction of pre-engineered steel buildings. This association, a world leader in the design and manufacture of non-residential construction systems and components, has given Baldauf an advantage in commercial and industrial building sectors.
.
Jeffery Baldauf, John's son, took over leadership in 1997. He graduated from the University of Cincinnati in 1986 with a degree in construction management. The company has grown to a full-service contractor, meaning they can design, build, or serve as general contractors or constructions managers. The company has 15-25 full time employees, including project managers who perform the estimating and project management services. The company takes pride in the small amount of turnover they have experienced and is pleased to highlight they have four employees who have been with the company for more the 30 years.
.
Baldauf believes it is important to give back to the community and has supported many organizations, specifically the Marion Palace Theater and the St. Vincent De Paul's Food Pantry.
.
Over the years as Marion has grown, Baldauf Construction was hired to build many of the landmarks you see here today–places like OhioHealth, United Church Homes, Union Bank, Sims Brothers, and more. The company has made an impact outside of Marion by hiring local contractors in the communities they work in. The company has contributed to the economic growth of Marion by investing 1.5 to 2 million dollars every year in salaries.
.
Baldauf Construction Company credits its longevity to its commitment to quality, and the personal service, which has continually encouraged repeat business from clients.
.
#MarionMade #WeAreBaldaufConstruction