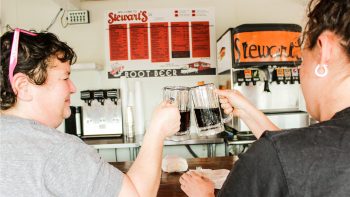 STEWART'S ROOT BEER STAND
Originating just a few miles east in Mansfield, Ohio, in 1924, Frank Stewart opened the first Stewart's Root Beer Stand. Seeing its success, Frank then opened more locations–with car hops–such as Marion's Stewart's Root Beer Stand on North Main Street. Famous for their root beer and hot dogs, current owners, Bill & Michelle Whitaker, continue the 1950'straditional car hop experience. Even though there is seating inside, there's no need to leave the car; just roll down the window, order, and a friendly server will hand deliver your aluminum window tray full of comfort food.
With over 90 years of service, the Stewart's Root Beer Stand is proof that it has become one of Marion's local mainstays–especially during those hot summer days when we all long for their famous Root Beer floats in frosty glass mugs. In today's fast paced world, the Stewart's Root Beer Stand continues to provide a relaxing sense of nostalgia that anyone will enjoy. It's the perfect go-to for families after a sport's game or for older couples to reminisce about the fond memories of yesteryear. Whatever the occasion, be sure to know that this living time capsule is just one unique destination in Mari on that would be difficult to come across anywhere else.
#MarionMade #WeAreHungry