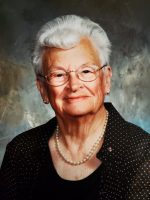 Catherine L. Ferguson is a 2020 MarionMade! Celebrate Marion honoree in the People category.  Catherine was born in Marion, Ohio in 1924 to Harold W. and Margaret Hall.  In 1942 she graduated from Marion Harding High School. She married Robert Ferguson, in 1943, at the Emanuel Lutheran Church.  She and Robert shared 73 years of marriage.
She was a loving mother to four children, David, Marc, and Robert Ferguson, and Carola (Ferguson) Woodrum.  One of her children was severely disabled with Cerebral Palsy.  She dedicated her time to her family especially to this child, giving 24-hour care for 20 years until his death.
Catherine also worked for the late George K. Brown at Wyandot Inc. for nine years.  For many years she served various volunteer roles in the community, helping in organizations and serving on boards. She was a life-long member of the Emanuel Lutheran Church, where she was married.
Catherine served on the Marion Library Board for eleven years and as President of the Board for two years. Fellow board member Carol Lathrop shared this memory, "Catherine was a dedicated library trustee, even attending meetings using a walker. She was a forward thinker always able to look at issues from all sides; she also had a historical perspective that was a great asset too. Catherine was optimistic and very kind to everyone."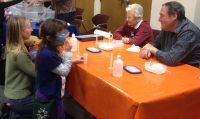 "Catherine had a true passion for Marion, both it's past and future. Her contribution to the Library was invaluable, she challenged the status quo and wanted us to be the best we could be," shared Gary Branson, Executive Director of the Marion Public Library.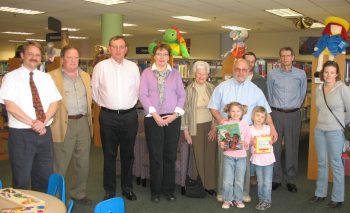 Catherine Ferguson was the first female member accepted into the Marion Rotary Club in 1987.  Prior to acceptance, she served as the club secretary for many years, succeeding her father as secretary.  After she retired from the Marion Rotary Club, Catherine was given the honor of Secretary Emeritus with a lifelong membership.
Catherine passed away in 2017 at the age of 92.  There were only nine years of her life that weren't lived in Marion County.  During her life, she was dedicated to and involved in the Marion community.  Today, there are two scholarship funds at the Marion Community Foundation in her name, supporting graduate students in Marion County.  One is the Marion Rotary Club Catherine Ferguson Scholarship Fund and the other is Catherine Leila Ferguson Memorial Scholarship Fund.
Catherine L. Ferguson loved where she lived.  She was MarionMade!