Welcome to MarionMade!  MarionMade! is about loving our Marion area's people, places, products, and programs.  It's about acting like someone who loves our community would act.  It's about developing relationships and investing in our community.  It's about doing what's good for our community because we know that good will benefit us all.  MarionMade! is proof we proudly stand together in support of our vibrant community.
MarionMade! recognizes our amazing past, but is focused on the present and future of our lively and remarkable community.  MarionMade! seeks to increase community pride by promoting positive features and stories about Marion's people, products, places, programs, and projects.  MarionMade! will spread the news that the greater Marion area is a rebounded and vibrant community.  MarionMade! seeks to ensure people view Marion as a positive place to live, work, play, and visit.
Industry, advanced manufacturing, thriving small businesses, affordable and varied housing, recreation, entertainment, major health care providers, educational opportunities across the spectrum, historical sites, the arts, and generous people – we have it all!  Rediscover Marion or discover it for the first time.  Most of all, love our community by acting like someone who loves our community would act.
Join the MarionMade! effort by:
• Creating and promoting messaging that supports Marion
• Increasing awareness of good people, places, and things in Marion
• Making MarionMade! a recognizable Marion brand for individuals, companies, and organizations by incorporating the MarionMade! logo and tag line into your current business plans, culture, promotion, advertising, and activities
• Sharing among current and former residents positive attributes and happenings of Marion
• Sharing stories demonstrating Marion's influence on important societal contributions through the work and achievements of its businesses, organizations, and individuals
• Liking, sharing, tweeting, posting, snapping, and pinning all good things about Marion on social media and encouraging others to do the same using #marionmade and @marionmadeohio
• Informing former Marionites who work in business of Marion's economic development successes and opportunities
• Using the MarionMade! logo freely on front doors, websites, press releases, products, and promotions to be part of the MarionMade! effort
• Adding "Proud to be" or "MarionMade!  We Are."
• Creating MarionMade!-branded promotional items for your employees (shirts, hats, patches on uniforms, etc.)
• Submitting interesting stories about people, places, products, and programs to WeAre@MarionMade.org;
• Knowing our community—restaurants, businesses, recreation, etc.—so you can act like someone who loves your community and is able to share that information
• Promoting a positive sense of togetherness and pride among Marionites in which everyone is Proud to be MarionMade!
____________________________________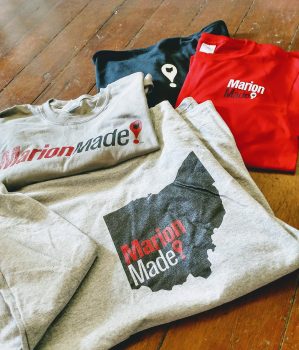 LOOKING FOR MarionMade! T-SHIRTS? Want to show that you (or your group or organization) is MarionMade? Tshirts are available locally (of course) at Hessler's, Rivers Edge, VizualExpress, and Willy+Wade.  Your are encouraged to contact these business to place orders. Each has a variety of approved designs, colors, long and short sleeve options, and can help you with sizes.  Be sure to post your MarionMade! selfies online wearing your shirt!
____________________________________
Studies show communities prosper when their residents have a positive attachment to their community.  No community is perfect and it is easy to "admire" a community's imperfections.  Marion has had its share of difficult times in recent memory. Some local plant closings, a national drug problem, and a world-wide recession have worked against the positive sense of place this strong, proud community possesses.  Marionites are resilient, however, and we are rising again to solve problems and move forward.
Loving where you live is important. We all want to love our community, but  how?  As part of MarionMade!, the Marion Public Library is offering free copies of Melody Warnick's book, This Is Where You Belong, as part of a Community Read initiative. This book provides hands-on principles and tactics for loving where you live. Pick up a copy, read; then, pass it on!
MarionMade! will focus on telling the story of Marion, past and present, through traditional and social media and this website.  The effort is organized into communications hubs, each of which has volunteers to gather and prepare stories. These hubs include:
• Love INC providing news on faith-based organization
• Marion Area Chamber of Commerce covering business and industry
• Marion Area Convention and Visitors Bureau covering tourism and history
• Downtown Marion Inc. coordinating downtown merchants, retail, and service club news
• Marion Public Library covering city, county, village and township government activities
Submission of stories — and story ideas — by the general public is strongly encouraged. Stories should be approximately 300 words in length and include a photo. Stories may be submitted via email to WeAre@MarionMade.org.
MarionMade! is a committee of Marion Community Foundation which includes: Nikki Workman (Chair), Ellen Messenger (Vice Chair), Jeremy Dunn, Kate Fisher, Diane Glassmeyer, Scot Gray, Pam Hall, Jacque Laipply, Clarissa Myers, Mayor Scott Schertzer, Commissioner Ken Stiverson, Nissa Stump, Valerie Wigton; and, staff members Vicky Branson and Lori S. Stevenson.  MarionMade! is supported by Marion Community Foundation.
Like, Follow, Share!
MarionMade! is online. Visit the website and Like, Follow, and Share on all of MarionMade!'s social media channels to keep up-to-date with all things MarionMade!  We're on Facebook, Twitter, Instagram, and Pinterest as @marionmadeohio or MarionMade Ohio.