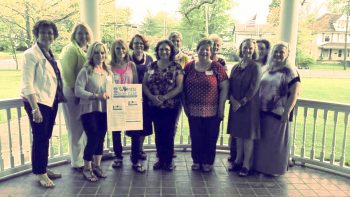 100 WOMEN WHO CARE DOING GREAT THINGS IN MARION, OHIO!
The first 100 Women Who Care group was started in Jackson, Michigan, by Karen Dunigan in 2008. Her group, at their first one-hour meeting, raised $10,000 to buy 300 new baby cribs for an organization in their city. Their membership has now grown to nearly 300 members. Since that time, other cities throughout the country have formed groups.
In May 2014, Marion's 100 Women Who Care chapter was founded by four friends as a result of seeing a news story about a similar group in Downtown Columbus. Despite each of the women were leading their own busy lives, they joined forces to create a new group to support the local non-profit organizations serving Marion County and give back to the community in which they live.
At the inaugural meeting in May 2014, 14 women got together to donate $1,325 to Spirit of Hope, a fund started by John and Phyllis Butterworth to help cancer patients and their families navigate some of the unexpected hurdles they may face during their cancer journey. Through this fund, gift cards for gasoline for transportation to and from treatment and gift cards for restaurant meals are provided. The fund also assists in paying for prescriptions when cancer patients cannot afford it.
Since that meeting four years ago, the group has increased steadily in numbers and has donated more than $60,000 in support of local charities.
#MarionMade #WeAreGiving #WeAre100