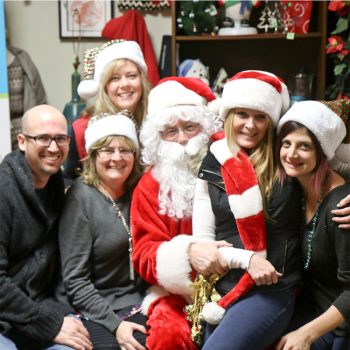 MARION'S HELPING HANDS
Marion's Helping Hands started in May 2013 with a mission, a Facebook page, a friend, and Brandy Gatrell's garage. Almost four years later, the mission has gone above and beyond what was ever imagined. Now, the operations are led by four moms and a community that cares. A community that wants to make a change and be a part the solution for a better Marion.
Marion's Helping Hands can be described as an online social service. They have helped provide clothes, food, Christmas gifts, Thanksgiving dinners, school supplies, job listings, homes for rent, food pantry listings and even a listening ear or shoulder to cry on. They network with other local social services to ensure that they are sending those in need in the right direction with the right contacts to get the help that they are seeking. Helping Hands takes the time to fill out grants for free beds and waivers for clothing and shoes to local families in need. This is all accomplished by coming together as one and working hard to see that the needs are being met.
Brandy Gatrell and the other three ladies work countless hours responding to messages, tracking needs, setting up events to gain funds, organizing meetings, and posting families' needs. They could not do all of this without those who have reached out to be a part of their home team. They expressed that they have been blessed to network wit,h not only several other social services, but more than 3,000 Facebook members that have stepped up to help with their mission. Those that have been in need at one time or another often offer to help give back. This is done by trading or donating things that they no longer need, volunteering their time to local events, and offering feedback from their own experiences.
Their mission has proven to be effective and stands out not only in Marion, but also the surrounding counties. They have had requests to help those in need outside of Marion when other individuals have run out of options in their own hometowns. Helping Hands has coached and assisted Crawford County, Galion City, and, now, Delaware on setting up a Facebook page to benefit their own communities. They chose to carry on and stay connected with Marion Helping Hands and use the same logo with different colors.
#MarionMade #WeAreCommunity