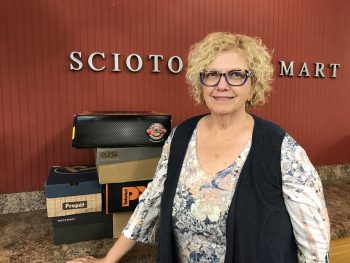 GO THE DISTANCE TO SHOP LOCAL.
Step inside Scioto Shoe Mart and you'll find all kinds shoes, of course, from sandals to work boots to prescribed footwear. They also carry 23 brands of wallets, handbags, jackets, jewelry, and shoe accessories, such as soles and inserts. What you may not know is that general manager Shannon Stark, who has been with the store since it opened in 1992, is a certified podiatrist. She's quick on her feet to help her customers find the best pair of shoes for any occasion.
Known for donning a tent in their parking lot during huge sales, Scioto Shoe Mart stocks 80 brands and styles of shoes. The Marion location is one of three since Tom and Delores Selbee held the grand opening of the original Scioto Shoe Mart in Portsmouth, Ohio, in 1962.
Not only do Shannon and her Marion staff provide outstanding customer service at Scioto Shoe Mart, but they take pride in their annual Piper's Fun Run event/ fundraiser. Piper is a young friend of those at Scioto Shoe Mart and has been battling leukemia. With 2017 being their main annual event, Shannon and Scioto Shoe Mart raised money to benefit Piper's family along with Nellie's Champions for Kids (NC4K), to continue supporting pediatric cancer families.
Shopping local means so much to Marion's local businesses like Scioto Shoe Mart. Shopping local doesn't just support the business itself; it supports the employees with families who are our friends and neighbors throughout the Marion community.
#MarionMade #WeAreSmallBusiness #WeAreSciotoShoeMart