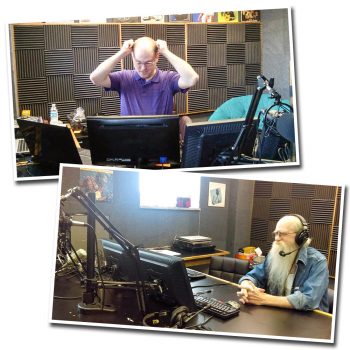 HOME OF THE BLUES.
Marion native, Spencer Phelps, has been a fan of radio as far back as he can remember. His official start in the radio industry was as a regular voice on local WDCM in the early 2000's. He describes other ventures in local media including a regularly televised program on TV22, production of local radio shows, book writings, and even an adventurous run for public office–though he admits his run was done more in jest.
The history of blues station WDIF is just as evolving as Spencer's career. In 2003, station WDCM-LP 97.5FM was started by the US Open Junior Drum & Bugle Corps Championship Commission, offering adult contemporary music with an emphasis on local events and news. Through a series of management changes the station picked up the call letters WDIF in 2010. Spencer admits that, when he joined the station in 2016, it was in need of revitalization–determining that offering a new sound could be the answer. Blues was a natural selection for Spencer, as this was the music of his childhood and, in his opinion, "blues music is cool."
Most would agree that his appreciation for Blues has been well received by the community and had the intended effect of renewing the radio station. Other changes were ahead for the station in the form of new management and a departure from their parent company (the Drum & Bugle Corps) to what it is currently today–Marion Makes Music, a 501c3 public charity. The station is now found at 97.5 FM.
In an effort to give back to the community, Marion Makes Music uses a portion of the station's proceeds to provide free music lessons to kids in the community. Spencer states, that "with the help of sponsors and donations, we aim to bring this opportunity to many more children" and families in Marion County.
Without question, Spencer believes Marion is the best location for WDIF "because this is where I'm from, it's where I am, and it's where I want to stay. It's a great place!" He went on to say, "we've broken through the sameness of radio and given people in Marion another musical option. There are people who have never listened to anything on the radio other than country, pop, and classic rock. We've broken the choke hold of mundane radio. We're real, raw, honest, and we play music that some people have never heard before. Plus, we're giving Marionites a local venue to display their musical talents on our local music spotlight show. We have analysis of local sports on our sports show, and area Blues bands are getting their music played on the radio for the first time ever."
#MarionMade #WeAreWDIF #WeAreMusic