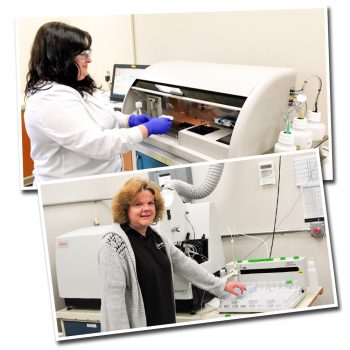 ALLOWAY.
.
Alloway is a full-service environmental laboratory specializing in analyses on drinking water, wastewater, and solid and hazardous waste. In addition, Alloway offers innovative software, laboratory development, and training options.
.
John Hoffman, the president of Alloway, began his career working for Alloway in 1979. The company was owned by a small engineering firm providing some very basic testing services. In 1982, John had an opportunity to purchase the laboratory and began to expand services. Alloway has grown in part by acquisition over the years; and, in 2006, Alloway acquired Aqua Tech Environmental Laboratory in Marion, Ohio. The laboratory was known throughout the industry as one specializing in drinking water, and this was an important part of Alloway's continued growth and success.
.
Alloway now has three locations in Ohio–Marion, Mansfield, and Lima–and more than 75 employees. They continue to add new analytical capabilities and service offerings to meet the ever-changing needs of environmental testing.
.
Since 2006, Alloway has doubled the number of employees at its Marion facility, resulting in 15 new jobs for the community.
.
To continue its growth in the industry, Alloway has maintained certification through the National Environmental Laboratory Accreditation Program, the US Coast Guard, the Ohio Environmental Protection Agency, and 12 additional state agencies. Because of these certifications, industries, and municipalities from all over Ohio and the surrounding states bring their samples to Marion, Ohio, for analysis. The flow of people coming to Marion to drop off samples improves local business. Also, the presence of a laboratory with these certifications is a significant draw for industries looking to locate in the Marion area, as they have a local source for environmental testing. Having a nationally certified laboratory in Marion, Ohio creates great notoriety for the community.
.
#MarionMade #WeAreAlloway