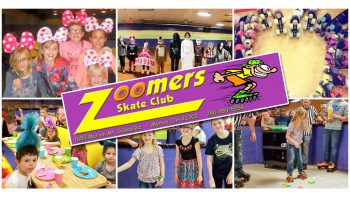 ZOOMERS.
.
For Don and Kandy Yarger, Zoomers Skate Club is all about bringing people together. In fact, that's part of the reason they took over the long-standing Marion business in 2000.
.
"My husband and I always wanted to work together," Kandy explained, "especially since our jobs at the time kept pulling us apart."
.
Having been part of the business alongside her parents and grandparents over the years, Kandy knew the potential inside those walls. Once they had the keys, the first order of business was cleaning and renovating the building's interior. While other roller rinks have closed their doors over the last decade, the Yarger's continue defying the odds and overcome obstacles every day.
.
"I don't believe anyone achieves success without a passion and a strong determination," Kandy said.
.
That drive–and a staff of 7 or 8 employees and volunteers during the prime season–has earned Zoomers a positive reputation, drawing skaters from all over North Central Ohio. Folks travel from Bucyrus, Upper Sandusky, Galion, Marysville, Delaware, and even Columbus to enjoy the family-friendly atmosphere. Still, Marion is truly home and the Yargers like to give back whenever possible.
.
Numerous area schools, churches, and nonprofits have benefited from their generosity. From raising money for the family of fallen officer Brandy Winfield to participating in the Marion Popcorn Festival parade, Zoomers continues its efforts to be a positive force in the community.
.
It really all comes back to family. Few things are better than seeing the look on a child's face when they have their first glimpse of the roller rink. Even better? When that child has grown up and brings their own children back. If the last several years are any indication, Zoomers will be putting smiles on Marion faces for many generations to come.
.
#MarionMade #WeAreZoomers