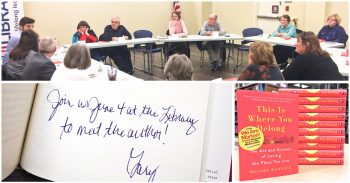 COMMUNITY READ: THIS IS WHERE YOU BELONG
"Our towns are what we think they are."– One of Melody Warnick's Love Where You Live principles
The Marion Public Library, with generous support from Marion Community Foundation, distributed, throughout the county, 300+ copies of the book This Is Where You Belong: The Art And Science of Loving Where You Live by Melody Warnick. This CommunityRead is to help generate grassroots conversations about how residents can truly embrace where they live and develop concrete ways to foster place attachment in the Marion community. The message of the book dovetails perfectly with another campaign to foster a positive perception of Marion–the MarionMade! initiative.
It is hoped that readers will enjoy the book and, then, pass it on to someone else. This way, the title naturally works its way through the community. "This concept was definitely meant-to-be, since this book was ordered, around the time we first started hearing rumblings of the MarionMade! initiative. Once we received our initial copies of the book, it just fit so perfectly into what we were hearing about MarionMade! and we wanted the Library to be a partner in the initiative," said Gary Branson, Executive Director of Marion Public Library.
We held our first book discussion at the Marion Public Library on March 21. Throughout the coming months, there will be plenty of opportunities for readers to gather and discuss the book further, both online and in-person. Several book discussions are planned, which will take place at a number of local establishments.
Melody Warnick, author of the book, will visit Marion and headline an event on Sunday, June 4 at the Marion Public Library. She is scheduled to speak at 2 pm that day and will discuss her writing, why she became so passionate about place attachment, and how she decided to write this book. She'll also be on hand starting at 1:15 pm for an informal meet-and-greet, with locally made treats available for attendees.
#MarionMade #ThisIsWhereYouBelong