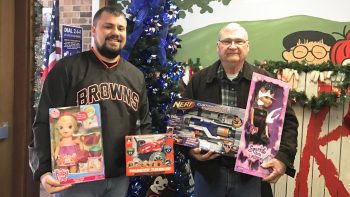 UNITED WAY VOLUNTEER APPRECIATION BREAKFAST
Every year United Way of Marion County honors a Volunteer of the Year at our Annual Meeting. This year with the launch of the United Way Volunteer Resource Center and Get Connected Website, we wanted to celebrate all volunteers in the community. We know volunteers are a critical piece to the success of our community and to those we serve.
In 2016, United Way volunteers saved agencies over $179,000 by the needs they filled with their energy and passion. That is only volunteers who served within United Way events and programs. There are so many more volunteers that serve our community and United Way wants to say THANK YOU.
United Way also wants to encourage us to LIVE UNITED and that is why the Get Connected volunteer website was implemented. This is a free and user friendly website that matches volunteers to volunteer needs within our community. You can visit this website at volunteer.unitedwaymarion.org.
United Way is providing a thank you breakfast to volunteers and organizations that serve our community on Friday, April 28th at 8am. We want to thank all the groups, clubs, and organizations who pour so much time, energy, talent, and passion into our community. Every group will be recognized at the event. Each group has the opportunity to nominate a volunteer of the year. The winner will receive the Get Connected Volunteer of the Year award for 2017!
#MarionMade #WeAreVolunteers #WeAreAppreciative