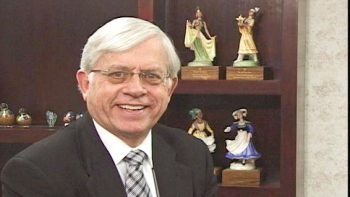 LOWELL THURSTON: DECADES OF SERVICE AND FAMILY FIRST.
Lowell Thurston entrepreneur, family man, Marion citizen. The graduate of Bowling Green University was raised on his family's farm in Deshler, Oh. Where he grew up with his four siblings and 2,000 turkeys. While majoring in accounting, he had the privilege of studying alongside his sister and mother as they attended BG at the same time. Thurston then tried a few career paths, but took little interest. In 1971, Mrs. Thurston purchased a tie tack for her husband from Carroll's Jewelers. Their lives were about to change.
"I didn't know a ruby from a garnet," Thurston claims. But, soon enough, he was on the way to gemologist school. A few short years later, in 1974, Thurston purchased Carroll's Jewelers from the Carroll's who had ownership since 1934.  For Thurston, sales were instilled at a young age; he even won an Emerson radio in school for top magazines sales. Advice Thurston shares with businesses is 'finding a niche.' Carroll's niche is service. Build a good reputation, like an old fashion hand shake.
A common theme among Carroll's employee's is decades of service and family first. Different family needs all met due to the number one rule, family first. Through the years, Thurston has experienced business in other locations, but the heart of his business always comes back to Marion. Thurston is a father of two and grandfather of six. Both his children attended Marion City Schools — to which he accredits a portion of his children's success.
The love of this community is what caused Thurston to settle his family here in 1966. One reason Thurston states simply, "The size, knowing others provides a sense of comfort." Thurston mentions affordability and states, "My wife and I could retire, move to Florida. We won't, we like it here!"