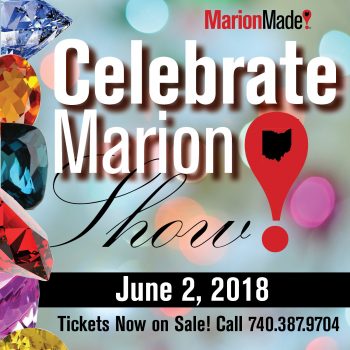 The second Celebrate Marion Gala was a huge success! Held June 2, 2018, at the Marion Palace Theatre, approximately 1,000 people joined MarionMade! for this celebration of the many positive things happening in Marion, Ohio. This is the major annual fund raiser for the MarionMade! community pride initiative and is lavishly supported by many local businesses and individuals.
A number of individuals and organizations deeply committed to our community and promoters of the opportunities Marion offers were recognized for their unique contributions to the culture of Marion, Ohio. Additionally, the Palace stage was graced by exceptional entertainers, all of whom are "MarionMade." The entertainment lineup included Jessica Dyer, Andrea & Darryl Gatlin, and Madisen Schenk.
Remember the dancing video? Watch it again on YouTube: MarionMade! Dance
 2018 HONOREES
Click HERE to see the slideshow of the 2018 GALA Honorees
Philanthropists: R.T. Lewis, Jerry Davis, and Trella Romine
People from our Past: Norman Thomas, Madge Cooper Guthery, and Ula Watts

People of our Present: Fran Voll, Carroll Neidhardt, Jeff Ruth, Carol Bebout, Shary Williamson, and Ted Graham

Places: Marion Palace Theatre, Veterans Memorial Park, and Heritage Hall
Products: POET – Marion, Former Employees of Marion Power Shovel, Morral Companies, Carroll's Jewelers, ProMo Costumes, and Fahey Banking Company
Programs: MGH TWIGs, Safety City, and Marion Public Library
Group: Primary & Secondary Educators
Want to see the slideshows from the Gala?
Click HERE to see the Marion's  New & Expanding Businesses
Click HERE to see Marion Community Foundation's 20th Anniversary story
2018 ENTERTAINERS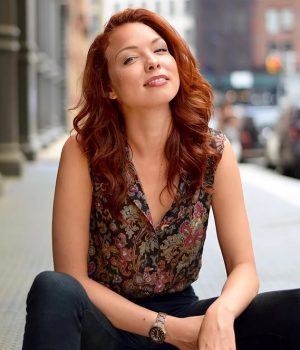 Jessica Joy Dyer is a Manhattan based singer and actor. During her time in New York she has performed Off-Broadway, with Disney Cruise Lines, and has toured the United States and internationally. When not on the stage, Jessica stay busy with voice-over work, recording background vocals for bands, and performing alongside her crazy talented friends in cabarets at 54 Below. Most recently she toured internationally with the 2016 production of HAIR as Sheila Franklin.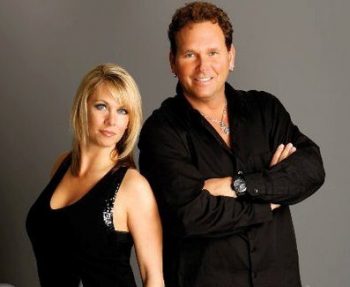 Before joining forces as GATLIN, Darryl and Andrea were accomplished performers in their own right. Andrea (Ison) is the MarionMade! half of the due. Her musical journey began in Marion at an early age and led to a degree in music from Ashland University. Her voice has taken her to many stages, including winning the award for Best Classical Talent and Preliminary Talent at the Miss Ohio pageant. She sings in six different languages and was a featured guest performer in England. She has written and recorded on a hip-hop album and was featured on the Fox Sports Network as the National Anthem singer for the Columbus Blue Jackets National Hockey League team.
Darryl achieved major success in Nashville with two albums on Sony/Epic Records, eleven performances on the Grand Ole Opry, CMA, TNN and ACM award nominations, countless tours with stars like Reba McEntire, Alabama, Oakridge Boys, The Mandrels and even a Billboard Top 40 Hit with "No Sir." Darryl has been a performer/singer/songwriter from a young age and his incredible voice has built a huge fan base all over the country. His hometown is Beaver Falls, Pennsyvania.
Madisen Schenk is a returning performer to the Palace stage. You may have seen her as Dorothy in The Wizard of Oz, Jane Porter in Tarzan, or Jane Banks in Mary Poppins, as well as several years of stunning audiences with her amazing, unforgettable voice at Christmas at the Palace — just to name a few. Madisen will be a sophomore at Harding High School this fall. She is an active member of Harding's music program and show choir. She would like to thank all involved for this opportunity and is so proud to be MarionMade!
2018 SPONSORS
The Celebrate Marion Gala & Show are hosted by Marion Community Foundation and supported by the following sponsors: OhioHealth Marion General Hospital, Dixon Group of Wells Fargo Advisors, Fahey Banking Company, Marion CAN DO!, Nucor Steel Marion, Merrill Lynch Olson Vincent Sharma Group, STIFEL Financial, United Church Homes, Verne Hart Insurance Agency-Grange Insurance, Whetstone Financial, and Whirlpool Corp. Marion Operations; Center Street Community Health Center, Cummins Facility Services, Eric's Auto Glass &  Megan Queen, The First Citizens National Bank, Holbrook & Manter CPAs, Marion Industrial Center, Marion Public Library, Marion Technical College, Morral Companies, The Ohio State University at Marion, Sika Corporation, Sims Brothers Recycling, United Way of Marion County, Wyandot Inc. and Wilson Bohannan Lock Company; Baldauf Construction Company, Boyd-Born Funeral Home, Carroll's Jewelers, Downtown Marion Inc., Finney Family Dental, FrazierHeiby, Kegler Brown Hill + Ritter, Kingdom Builders & Remodeling, Lehman Capital Management Group private wealth practice of Ameriprise Financial, Marion Board of Realtors, Marion Community Credit Union, McCoy Landscape Services, POET-Marion, ProScape Lawn & Landscape Services, Sakamura USA, Snyder Funeral Homes Gunder/Hall and Denzer Chapels, STAR/Steam Turbine Alternative Resources & the Flaherty Family, Kimberly Stark, PsyD., and United Bank Division of Park National Bank.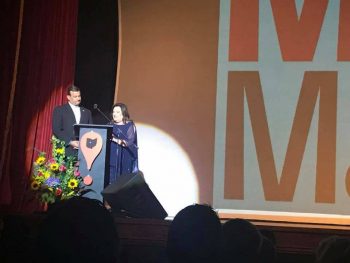 The Honorary co-chairs of the 2018 Celebrate Marion Gala were Mayor Scott Schertzer and Beth Meadows.
2018 Celebrate Marion Gala playbill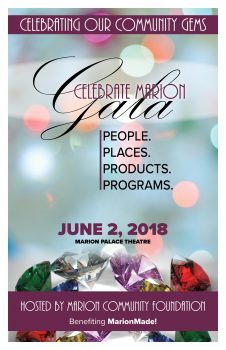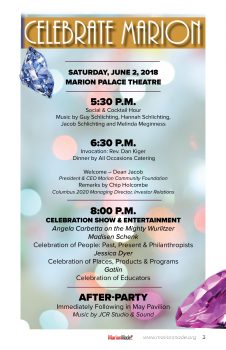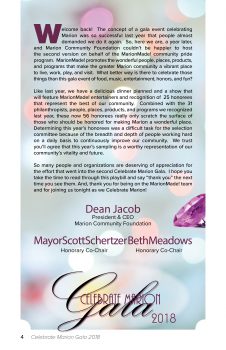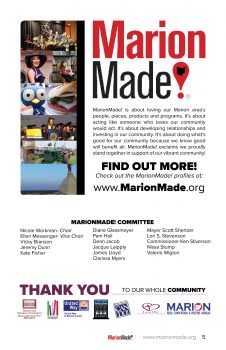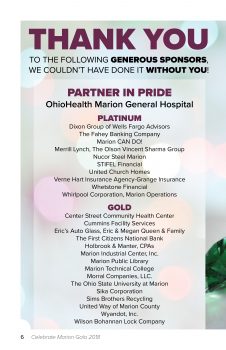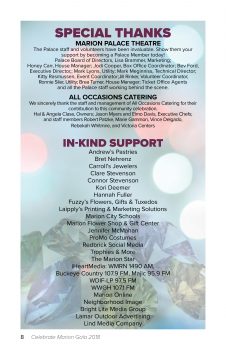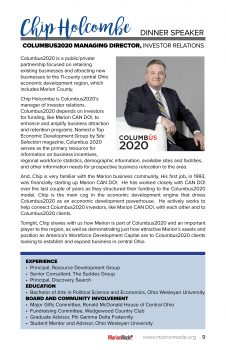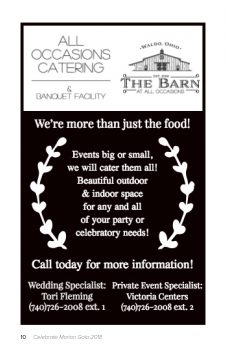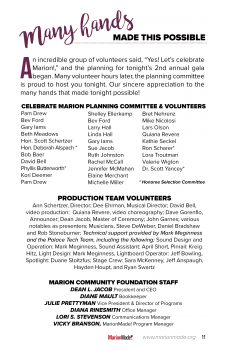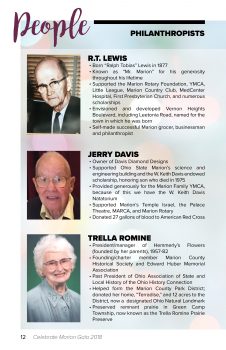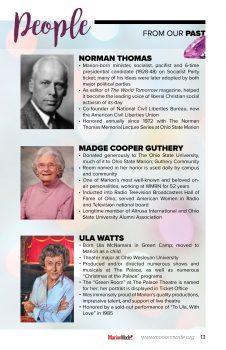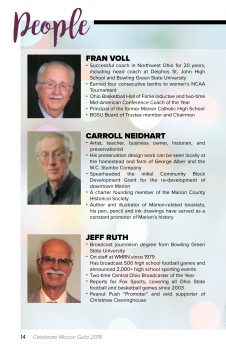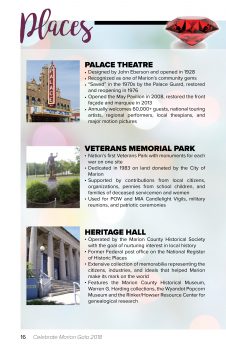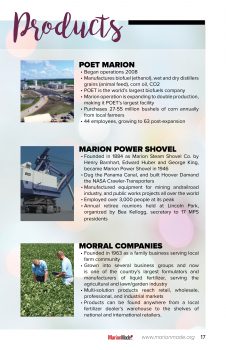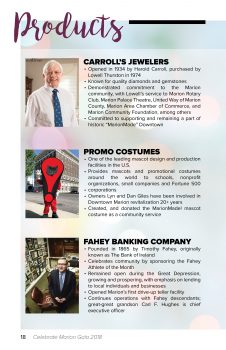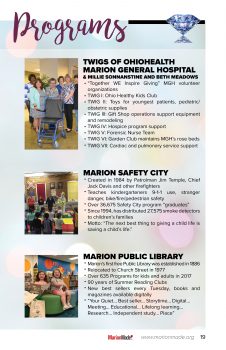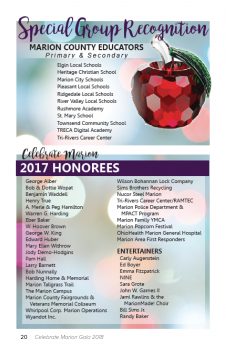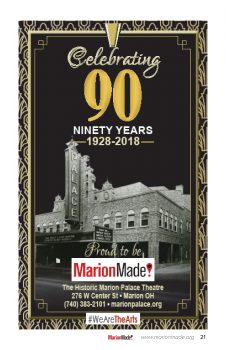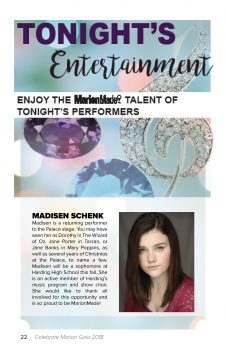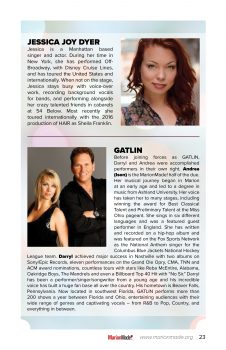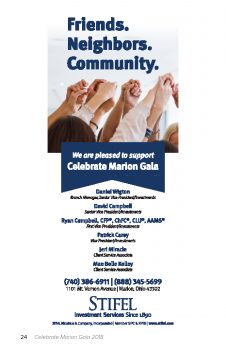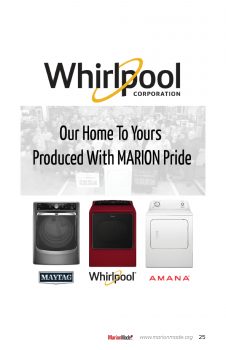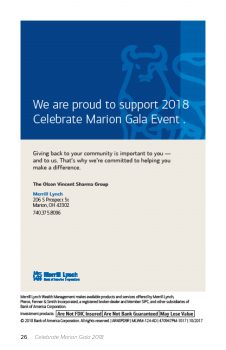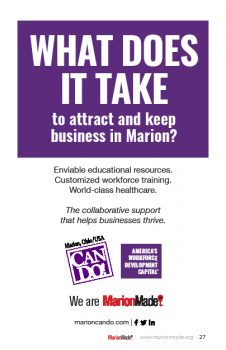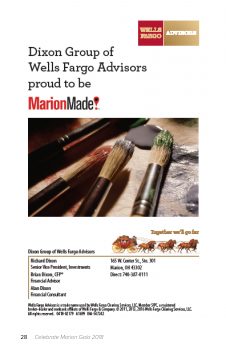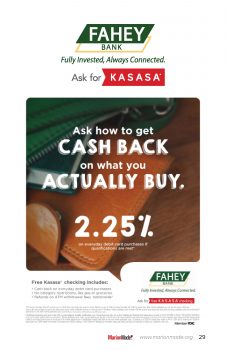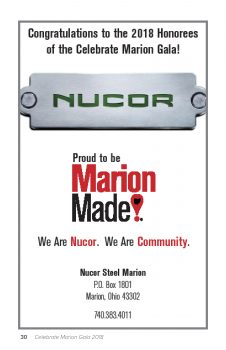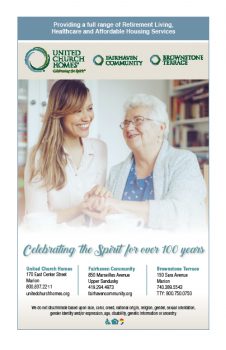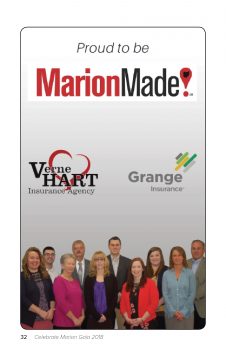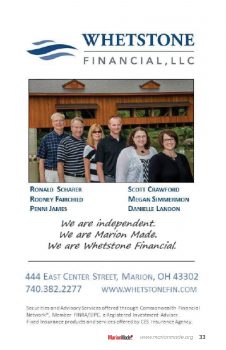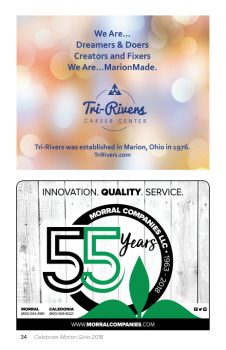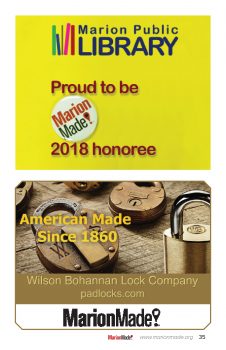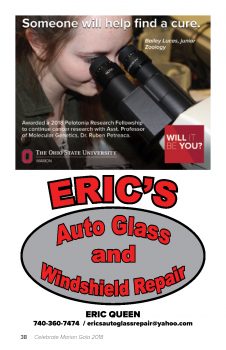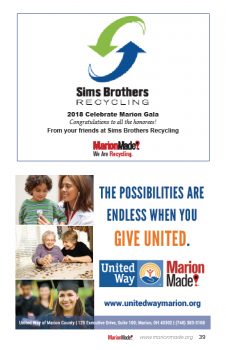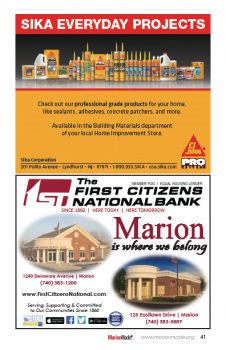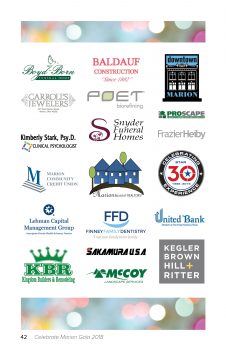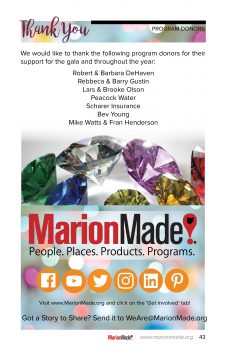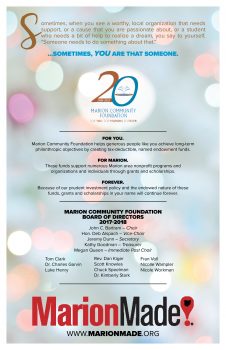 _____________________
The 2017 Celebrate Marion Gala
Click HERE to see the 2017 GALA recap
The 2017 Gala included a cocktail hour and catered dinner in the May Pavilion. The formal dinner was attended by more than 430 people–the maximum capacity of the Pavilion–and catered by All Occasions Catering. Melody Warick, author of This is Where You Belong, addressed the guests.  At 8 p.m., the event moved into the main house of the Theatre for an awards ceremony and entertainment featuring a number of successful performers with hometown ties to Marion, including jazz musicians Bill Sims, Jr. and Randy Baker, actresses Carly Augenstein and Emma Fitzpatrick, singers Sara Grote and John Garnes, a capella group NINE, and the MarionMade! community choir. The evening concluded with an after party and dancing in the Pavilion.
The 2017 Honorees included:
Philanthropists — Benjamin Waddell, Henry True, Bob & Dottie Wopat, George Alber, and A. Merle Hamilton
Historical Figures — Warren G. Harding, Eber Baker, Edward Huber, W. Hoover Brown, and George W. King
People — Larry Barnett, Bob Nunnally, Mary Ellen Withrow, Jody Demo-Hodgins and  Pam Hall
Places — The Ohio State University at Marion & Marion Technical  College, Harding Memorial, Harding Home, Tallgrass Trail, and  Marion County  Fairgrounds &  Veterans' Memorial Coliseum
Products — Whirlpool Corp., Wyandot, Inc., Wilson Bohannan Lock Company, Nucor Steel Marion, and Sims Bros. Recycling
Programs Tri-Rivers Career Center/RAMTEC, Marion Family YMCA, OhioHealth Marion General Hospital, Marion Police Dept. MPACT, and  Marion Popcorn Festival
The event was hosted by Marion Community Foundation and supported by the following sponsors: Dixon Group of Wells Fargo Advisors, Lehman Capital Management Group, Marion CANDO!, OhioHealt,h Sims Bros Recycling, Star, Stifel, Vincent Fogel Olson Group of Merrill Lynch, Whetstone Financial, Marion Public Library, The Ohio State University  at Marion, Eric's Auto Glass, United Bank, United Way of Marion County, Verne Hart Insurance, Boyd-Born Funeral Home, Carroll's Jewelers, Dr. Charles & Lyn Garvin, Cummins Facility Services, Downtown Marion, Inc., Fahey Bank, Dr. Kimberly Stark, Marion Area Convention and Visitors Bureau, McDaniel Automotive, Morral Companies, ProScape Lawn & Landscape Services, Snyder Funeral Homes, Wilson Bohannan Lock Company, Black Heritage Council, Marion Community Credit Union, and NucorSteel Marion
Co-chairs of the 2017 Celebrate Marion Gala were Hon. Deb Alspach and Dr. Scott Yancey, DVM.