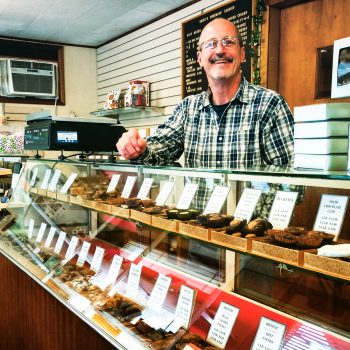 SHIRK'S HOMEMADE CANDIES: MARION'S GENERATIONAL CHOCOLATIERS.
 .
It all started with a dream and a sweet tooth. Everyone's favorite treat was introduced to Marion by long-time resident and new entrepreneur, Bert Shirk. Following his dream to be an independent business man, Bert purchased The Caramel Crisp Shop in downtown Marion in 1932 and soon began to create his own hand-dipped chocolate creations. Bert, known for the sweet aroma of caramel popcorn filling the streets from his candy shop, drew the attention of Wyandot Popcorn. In the 1950's Wyandot Popcorn contacted Bert concerning the purchase of his caramel corn recipe to help them enter the snack business.
 .
Not wanting the family business to end after Bert's retirement, son, Richard Shirk, and his wife, Joan, bought Shirk's Homemade Candies in 1964. Thirty years later their son, Rick, came back home to help run the family business after working many years in retail. Since Rick's return in 1994, the family business saw a 47 percent increase in revenue over a 5-year period. Rick believes his grandfather's handed down advice of first working for someone else to see the many different backgrounds and perspectives have helped define the Shirks' work ethic, dedication, and appreciation within the family business.
 .
Whatever your sweet tooth may be craving, they've got it. With 13 flavors of handmade creams, it's no doubt that this treat tops the charts–closely followed by the favorite Pecan Turtle. Not only does Marion agree that Shirk's Homemade Candies has the best dessert around as the winner of the Taste of Marion's best dessert in 2016, people from around the nation concur. Over the holidays–their peak season–Rick ships their traditional favorites around the U.S. to corporate organizations and moved-away Marionites alike. Many of the later find Shirk's Homemade Candies tradition, too–reminding them of home during the holiday season.
.
Rick is proud to follow in his family's footsteps while looking forward to Marion's future; providing his hometown and beyond with a now third generation, unique, family tradition that is hard to come by nowadays.
 .
#MarionMade #WeAreShirksCandies