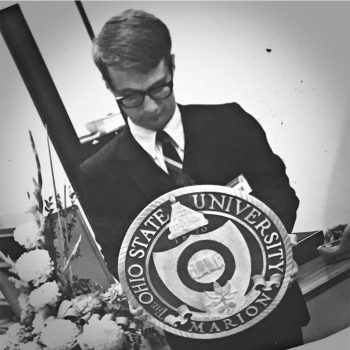 APPRECIATION OF THE ARTS AND A LOVE FOR HISTORY
In 1966, Ridgedale High School graduated a small class of 66 students. Among them was future Marion historian, Carroll Neidhardt. After graduation, Neidhardt was one of the first students to attend The Ohio State University at Marion. His 1951 Ford, with no heat and a hole in the floor, transported him to class daily. Tin cans of hot water and a large quilt helped him endure the ride.
As a committee member of The Ohio State University at Marion, Neidhardt designed a medallion for the Marion Campus. This was the first casting for all four of Ohio State's regional campuses, including Lima, Newark, Mansfield, and Marion.
After graduating from college, Neidhardt taught for four years at Elgin in the art program; he continued his teaching at Ohio State for another 11 years. Unfortunately, an accident occurred which left him feeling his brush skills were limited and he eventually changed careers to work with the Bureau of Vocational Vision. In 1980, along with Scott Crider, Neidhardt began Design Enterprise.  Design Enterprise is responsible for several renovations in the Marion area including Marion Catholic's Elizabeth Bell, reinforcing brick walls in the downtown area, restructuring the Old German School and Church, and many more.
A life member of the Marion Historical Society, Neidhardt has authored six well known books in central Ohio with his art work and folklore knowledge. For 25 years, Neidhardt has teamed with Laipply's Printing and Marketing Solutions, producing a free calendar featuring notable landmarks. On display at Marion General Hospital are Neidhardt's sketches of early day scenery from each area; and, replicas are on display at each county's historical facility.
Neidhardt is the youngest living member of the Harding Memorial Association. He holds beautiful memories of his grandfather transporting President Harding from the historic vault to the Harding Memorial. There is no doubt that Neidhardt's passion has brought Marion invaluable gifts.
#MarionMade #WeAreTeachers #WeAreArtists