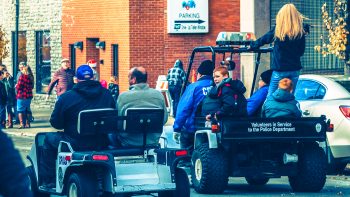 THEY ARE WATCHING OUT FOR US!
Founded in 2001, The Citizen's Police Academy Alumni Association (CPAAA) has approximately 50 members, who assist the Marion Police Department and our community in various ways. Some of the places and programs you might see them assisting with are child ID programs, vacation home checks, and ride-alongs with officers. But, many of our citizens encounter CPAAA members at the various parades and festivals. You will see them directing traffic and helping organize floats and bands for parades, making each of these events run much smoother.
Before these dedicated men and women can become members of the CPAAA, they must complete the Citizen's Police Academy. At the Academy they explore many aspects of law enforcement. They learn about basic police practices, tactics, and topics such as drug investigations, report writing, patrol tactics and information, and more. The classes are normally 1-3 hour class/week, running for seven weeks. All CPAAA members must be at least 18 years of age, a citizen of Marion County, and able to successfully pass a records check.
MarionMade! thanks each of these dedicated volunteers, willing to give their time and talents to help us all feel a little safer in our world.
#MarionMade #WeAreCPAAA #WeAreVolunteers