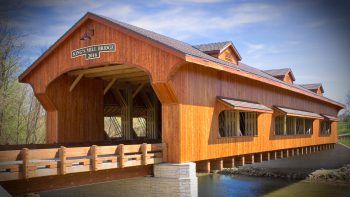 THE KINGS MILL COVERED BRIDGE
Some of the best treasures are the ones you stumble upon without expectation. The Kings Mill Bridge could easily fit that bill. The bridge spans the Olentangy River, to the south east of Marion proper and is truly a sight to see.
The bridge was built in 2016, but captures the essence of the historic covered bridges that have attracted millions nationwide. The structure, designed by Smolen Engineering Ltd. and built by RG Zachrich Construction, is composed of massive wooden beams, steel bolts, and many hand-crafted pieces. The picturesque setting of the massive wooden structure just above the flowing river is postcard-worthy.
The original bridge was in the steel truss style, and was only wide enough for one vehicle. It was transported to the site in 1937, after having already been in service at another location. The new bridge was constructed out of wood for a myriad of reasons, among those being sustainability, aesthetics, ease of repair, and durability in the Ohio climate.
Marion is proud to be the home of the Kings Mill Bridge, and all are encouraged to visit. A small parking area right next to the bridge gives easy access to tourists and those who wish to visit the attraction. It's not uncommon to see fisherman casting lines into the scenic river, or hear the sounds of children laughing while catching crawdaddys down by the water. It's a fantastic destination for architecture fans, photographers, or families!
#MarionMade #WeAreBridges