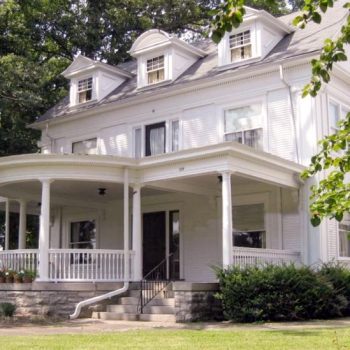 HISTORIC WOMEN'S CLUB HOME.
When Elizabeth Barlow became involved in the local Women's Club in Marion in the 1890s, she probably did not foresee the use of her home as the permanent headquarters for the club into the 21st century; but, that is exactly what happened with this prominent home on East Center Street. Seemingly a mesh of Colonial and Queen Ann styles, the Historic Women's Club Home includes a popular Marion feature–a round front porch reminiscent of the Harding Home built about the same time.
Today, the Club, which works for the preservation of the historic Barlow Home for the pride and enjoyment of all citizens, uses the home as its base for many community activities. It strives to offer women in Marion and the surrounding area a way to make an impact in shaping the future of our community, as well as preserving the home. Within the Home is the Barlow Arts Center (BAC). Established in 2013, the BAC oversees an art gallery and hosts fundraising events each year, including the annual Doll Show, Paint Party, and Spring Art Fair. Whether you attend any of these events or your group schedules a tour of the home, the experience is like stepping into Marion's past.
The Abigail Harding Auditorium is an addition to the east side of the home that is a favorite spot for meetings, receptions, wedding, and graduation parties. The auditorium also makes the Women's Club Home a popular place for touring groups where they can tour the home and gallery, then enjoy lunch in the auditorium.
Staffed completely by volunteers, the Historic Women's Club Home in Marion has been fulfilling its mission since 1890 and is dedicated to education, the arts and preservation of the Historic Women's Club Home.
#MarionMade #WeAreHistory #WeAreTheWomensClubHome