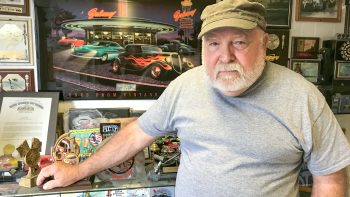 MARION'S OLDEST IMPORT AUTO REPAIR SHOP WAS STARTED BY BILL HUNTSMAN.
You might say the continuous purr of a finely tuned engine, especially a foreign one, has always been an inner joy for Bill Huntsman. With over 50 years in the auto service business, mostly focused on foreign cars, Bill can evaluate just about any problem that might arise.
Bill started his career in 1963 at Dixon Porter located on North Main Street in Marion, as a wash boy. He worked his way up to skilled mechanic and then service manager. Finding there was a demand for his craft, he worked at a couple of different dealerships between Columbus and Marion. That included different times with Klaben Motors and Mathews Ford in Mt. Gilead. He worked as service director, dealing with both foreign and domestic car care.
In February of 1981, Bill decided it was time to hang his own shingle and focus on his love of working on foreign cars right here in his hometown of Marion. Huntsman's Auto Service was born at 624 E. Church Street, Marion. For the past 35+ years, Bill has been certified and warranted in his craft and has lost count of the number of local neighbors he has helped with their auto service and repair needs. His warm and welcoming attitude was recognized a few years back when he was nominated for the Marion Area CVB's Customer Service Star award by a grateful customer.
Having a Marion business allowed him to be more flexible with his time while he and his wife, Olieva, raised their three daughters, Tammy, Trina and Tonya in Marion.
With the busyness of the shop, Bill still finds time to connect with the community he loves by serving as an advisor for the Tri-Rivers auto repair program. Plus, he loves sharing his car knowledge as he facilitates a couple of Ohio State University LEI classes a year. Bill likes to reiterate his company tagline, "Marion's Oldest Import Auto Repair Business," because there are not too many who can say that.
#MarionMade #WeArePeople