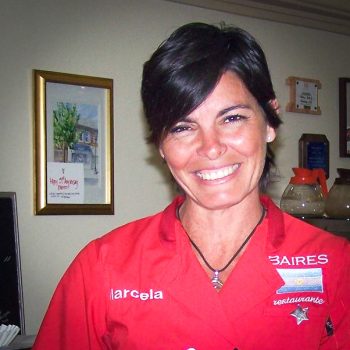 MARCELA BARRIOS & BAIRES RESTAURANT: BRINGING HERITAGE HOME TO THE TABLE
Growing up in Argentina, the local coffee shops and cafés always fascinated Marcela Barrios. The easy-going, social vibes easily capture your attention while looking in through their windows. Marcela always wanted a coffee shop of her own. After moving to Marion from Miami, she wanted to bring a part of her home with her; and so Baires Restaurant was founded.
Moving to Marion was a culture shock for Marcela. Converting her classroom English into natural conversation with her neighbors was a challenge. Difficulties with day to day chats took a toll on her their first year in Marion, but her neighbors were willing to help her breakdown those barriers. Having such friendly and understanding neighbors, Marcela was able to overcome her new-found fear of speaking and be herself again.
"The people in Marion truly make you feel so close to home–wherever you're originally from," Marcela assured. Having turned her dream into a reality, Baires Restaurant just recently celebrated their 9-year anniversary on April 1. Her favorite part of owning a restaurant is the social life; don't be surprised to see a familiar face as you are seated! An asset Marcela upholds is her up-beat personality and her interest in her customers. She'll make time to chat with everyone and make you feel welcome as soon as you walk in the door, repaying the kindness with which her neighbors welcomed her to Marion.
At one time a few years ago, Marcela and her family thought of moving back to Miami, but decided otherwise. Her children did not want to move, so they decided to stay. With the fond memories and friendships made, and their ongoing compassion towards Marion, the Barrios' are here to stay in the town they fell in love with. And where they call home.
#MarionMade #WeArePeople #WeAreBaires