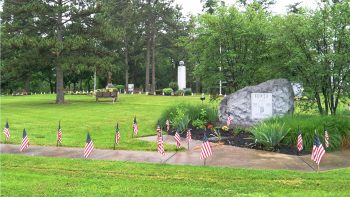 REMEMBERING SOLDIERS PAST AND PRESENT
It all started in 1936, when the Captain W. M. Hendricks Chapter of the Daughters of the American Revolution (DAR) donated a bronze World War I statue for a plot of land across from the Harding Memorial. Resting atop a 35-ton boulder, The Spirit of the American Doughboy was dedicated to honor those in Marion who served in World War I.  In 1982, 46 years after that dedication, 7.5 acres of land was donated by the City of Marion to the newly founded Veterans Memorial Park Association.
The Association made it their obligation to pay homage to the selfless acts of Marion citizens who fought and are fighting today for our freedom. This devotion quickly spread throughout Marion and, in turn, led to the next monument dedicated in the park, the Vietnam War Memorial. Over the next ten years, the Veterans Memorial Park Association erected 12 more monuments, dedicating the Desert Storm/ Gulf War Memorial – their 13th monument – on their 10 year anniversary.
Among the first 13 monuments, the Honor Roll Memorial stands in the most prominent location of the park. It recognizes all of Marion County's service people who died during war years. The Freedom Tree, a red oak, honors a Marion native and navy pilot, Captain Bruce Nystrom, and all American POW/MIA's.
The POW/MIA Eternal Light continues to shine bright in remembrance of Marion's soldiers that have gone missing or were taken prisoner during war. Adding to the park's uniqueness is one of the first monuments for women who have served and are serving in the military; the women's monument was dedicated in 1985. The Freedom Shrine was built in 1987, allowing this outside design to display 30 featured historical documents of American history under glass.
Today, the Veterans Memorial Park has 16 monuments recognizing the men and women who dedicated their lives to serving their country from the Revolutionary War (1775) to the Global War on Terrorism (present day).
This coming Memorial Day, kick off your summer by walking the flag-lined sidewalks of Veterans Memorial Park, remembering soldiers past and present; because, without the sacrifices Marion's veterans (and non-veterans) have made for us, we wouldn't be able to enjoy the freedoms we have today.
#WeAreVeterans