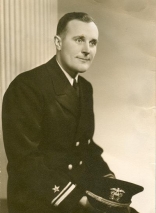 Centenarian A. Merle Hamilton, life-long Marion resident and noted philanthropist, created an enduring legacy in Marion.  During his 101 years of life in the Marion area, Merle supported numerous worthy causes, even including many in his will.
Merle, along with his brother Oliver, was known for the restoration of the Linn School, which they then donated to the Marion Historical Society.  Merle was instrumental in the design, development, and fund raising for the World War II Memorial at the Marion Cemetery.  Those close to Merle, who knew him better as "Ham," say that this memorial is one his most cherished achievements.  Merle's military service during WWII included tours in the Mediterranean, Africa, and Italy.  He was proud of his service and considered the memorial a small way of paying tribute to his fellow veterans.
Among the benefactors of Merle's generosity over the years are the Marion Historical Society, the Harding Home, the Marion Family YMCA, Marion General Hospital, and the Marion Palace Theatre.  He was known for his willingness to give of both his time and his resources.
One of his last projects, was the new May Pavilion at the Palace.  Elaine Merchant, theater manager at the time, notes that she was pleased that Merle lived to see the Pavilion completed and that he thought the much utilized facility to be beautiful.
Other organizations supported by Merle include The Ohio State University and the Fairhaven Community in Upper Sandusky, to which he and his late wife, Peg, donated a three-season sun porch.  Merle  was known for his love of Ohio State athletics and his OSU sweatshirt was said to be his favorite garb.
He attributed his long life to "good living — never smoked, never drank except a little wine, up early in the morning and worked hard all day."
Perpetually active in the community, Merle never missed a Rotary meeting.  He supported several churches in Marion, including Epworth, of which he was a lifelong member. He was admired throughout the community and known for his kind, gentle, compassionate nature and tremendous sense of humor.
In Merle's lifetime, he lived through 17 U.S. presidents — from Theodore Roosevelt to George W. Bush — and the Great Depression.  He witnessed an incredible array of modern inventions, not the least of which included the automobile, airplane, space travel, computers, and the atomic bomb.  While his college degree was in chemical engineering, he made his career with his family's limestone quarry business here in Marion.  With a strong work ethic, he worked well into his 90s, retiring in 2000 and passing in 2008.