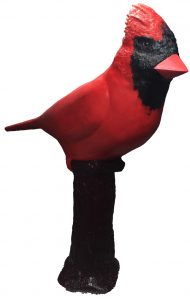 Area artists are encouraged to show off their talent and help brighten downtown Marion. Downtown Marion Inc. is sponsoring a design competition, the culmination of which will be to  display 17 large – 6 feet tall and 5 feet long – fiberglass sculptures of cardinals painted with a variety of bright colors and designs and mounted throughout downtown Marion. The design competition is now underway and open to all current and former Marion County residents.
Beth Meadows, president of the Downtown Marion board of directors, said "We felt like adding unique pieces of artwork into our downtown would be one way of helping to improve the curb appeal of the area." Meadows said.
The birds will be placed at various locations along Center Church and Main streets in the downtown area.
The sculptor is Merle Randolph owner of Randolph Sculpture Studio on South Main Street in Marion. Trained in sculpture/ fine arts and industrial design, he has worked mostly in metal and stone sculpture throughout his career.
All the cardinals' heads will be identical and painted with red, black, and yellow colors to be realistic with the male cardinal. The rest of the bodies, and the stump that the cardinal is perched on, are fair game for the artists' imaginations.
Applicants may submit up to three different designs for consideration. Applications must be fully completed and submitted on paper to the Design Selection Committee no later than 5 p.m. on March 31, 2017.